Fred Kavli Professor Michael Prather to Head New UC Irvine Environment Institute
(Originally published by the University of California, Irvine)
April 17, 2008
UC Irvine has created a new research institute dedicated to the study of how the environment and society interact.
The new endeavor - called the UC Irvine Environment Institute: Global Change, Energy and Sustainable Resources - will bring together scientists from across campus to work on projects specific to these areas. For example, projects could include studying how climate change will alter public health and welfare; whether people will accept the living patterns of green cities; and the environmental impacts of new energy technologies.
New challenges arise from the need for sustainable energy and other resources, and they are driven by 21st century changes in climate, ecosystems and demography," said Michael Gottfredson, executive vice chancellor and provost. "UCI strives to address these challenges. With an emphasis on interdisciplinary collaboration, this new institute will take our research to the next level of excellence."
The institute will award seed grants on a competitive basis to teams of UCI researchers from diverse schools and departments who design and collaborate on projects. Priority will be given to projects spanning scientific research, technological innovation, and/or societal response.
In addition, UCI will dedicate eight positions over the next three years for new faculty members who will broaden its environmental expertise.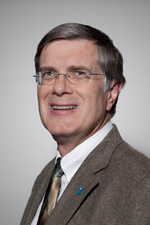 Michael Prather
Michael Prather, the Fred Kavli Chair and professor of Earth system science, will be the institute's inaugural director. Prather has an extensive environmental background, having written chapters on four Intergovernmental Panel on Climate Change assessments (1996, 1999, 2001 and 2007). The IPCC recently shared the Nobel Peace Prize with former Vice President Al Gore for its work on advancing climate change science. Prather spent the 2005-06 academic year in the U.S. State Department as a Jefferson Science Fellow, where he worked as an analyst for environment, science and technology.
"The schools and departments of UCI are home to some of the best intellectual talent in the nation. We want to encourage our top researchers to collaborate with their colleagues across campus, expand the scope of their research, and help answer questions about our future world," Prather said. "The institute will become a campus asset, providing resources for faculty members with innovative ideas."
The institute's governing board includes Susan Bryant, vice chancellor for research; John Hemminger, dean of the School of Physical Sciences; Al Bennett, dean of the School of Biological Sciences; and Nicolaos Alexopoulos, dean of The Henry Samueli School of Engineering. UCI's Multipurpose Science and Technology building will house the administrative core of the institute.
"We all are very excited about this new research endeavor," Bryant said. "We believe this institute will spark creativity and encourage faculty members to lead the charge to find solutions to the issues created by climate change."