Science Movie Supervised By Hirosi Ooguri Wins Best Educational Production Award
(Originally published by Kavli IPMU)
June 22, 2016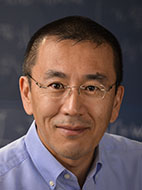 Kavli IPMU Principal Investigator Hirosi Ooguri supervised the award-winning film, "The Man From the 9 Dimensions."
A 3D dome theater movie visualizing superstring theory, supervised by Kavli IPMU Principal Investigator Hirosi Ooguri, has received the Best Educational Production Award, it was announced at the International Planetarium Society (IPS) Fulldome Festival Brno 2016 in the Czech Republic on June 17.
"The Man from the 9 Dimensions" was produced by the National Museum of Emerging Science and Innovation (Miraikan), and opened to the general public in April this year. The story follows a group of scientists in pursuit of T.o.E – a man believed to hold the key to solving the mysteries of the physical world. As they chase T.o.E., he takes the scientists and the audience on a journey through space and time.
Ooguri reacted to the announcement by saying, "I am delighted to learn that our movie is selected to receive the Best Educational Production Award from 66 films submitted by leading science museums, planetariums, and movie production companies around the world. It is a wonderful recognition of our effort to communicate science both accurately and attractively. It also shows that science outreach activities in Japan are at the international level. I thank Director Takashi Shimizu and other visual creators, and staff members at the Miraikan. I hope that this movie will convey excitements of science to young people and contribute to enhancement of science literacy of general public."
The Festival was held from June 15 to 17, and attracted 66 dome shows from 15 countries including Australia, Brazil, France, Japan, and the United States. On the final day, three prizes were given out: the Audience Award, the Brno Observatory and Planetarium Director's Award, and the Best Education Production Award sponsored by the IPR-Eugenides Foundation. The Best Education Production Award given to "The Man from the 9 Dimensions" was the only prize chosen by an international jury. The judges commended the show for its fresh insight and ability to spark curiosity on a complex subject regarding the deepest questions about us, and the universe. An Award Ceremony will be held on June 23 at the IPS Annual Conference in Warsaw, Poland.
"The Man from the 9 Dimensions does a truly wonderful job of depicting the 9-dimensional world that exists in the minds of theoretical physicists. Japan carries out high quality science communication, but not many videos have been produced that display this sort of high quality content that the general public can enjoy. It is a delight to hear that a movie supervised by Professor Hirosi Ooguri has been recognized internationally, and I hope it has a positive effect on science communication both in Japan and throughout the world," said Hiromi Yokoyama, Deputy Director of the Division for Strategic Public Relations, Strategic Public Relations Planning Office at the University of Tokyo.